- a unique leadership concept, that...
holds the power to transform a leader's existing and future competencies into engaging leadership action
combines with- and is a catalyst for all competence based leadership training
is focused on the kind of leadership that employees need to thrive and perform their best
concentrates on the leaders's day-to-day leadership deliverables
makes leadership a question of effective deliveries - not the leader's personality
What can you do as a Direct Leadership® Facilitator?
As a Direct Leadership® Facilitator, you are trained to teach, coach or otherwise facilitate individuals and groups in learning and applying the Direct Leadership® model and method.
Your authorisation allows you to deliver online programs, blended learning, workshops, 1:1 coaching or any mix of these. This means that you can meet any demand that your clients have for a specific training format.
Furthermore, consultants earn a generous commission whenever a program includes one or both of the online programs (Direct Leadership® Online Program and Remote Direct Leadership®). 
Take the Certification Online or as Classroom Training
The price of our Classroom based Certification Program has for a long time been  EUR 2.800.
The price of our new Online Certification Program is EUR 2.400.

If you have any questions, please don't hesitate to contact us.
Phone +45  22 12 07 87
Become a Certified Direct Leadership® Facilitator! 
Expand Your Impact | Increase Your Income
Do you want to...
Make a profound positive difference for leaders and their employees? 
Offer your clients an innovative approach?
Earn the same while invoicing fewer hours?
Add a passive revenue stream to your consulting business? 
Spend less but more effective time with clients?
Take our trainer certification program and learn our game-changing blended learning approach to Direct Leadership®.

Do what you love and let us promote you
As a leadership coach or trainer, you take genuine pleasure in helping people grow into efficient and engaging leaders.
In contrast, you probably don't enjoy sales and self-promotion work.
To a consultant who is a Certified Direct Leadership® Facilitator, we offer to actively promote you as a provider of our blended learning program.
Learn how you can do more of what you do best and let us help you with the sales.

Make clients rave about your work!
With the Direct Leadership® method people will learn to translate all previously acquired skills and job experiences into clear and engaging leadership.
The method works no matter if your clients are new or more seasoned as leaders or if their experience comes from line-, project- or agile leadership.
When you make yourself their instrument in gaining this essential competency, they will celebrate you and the difference you've made in their lives.
Leadership Deliverables are Essential to the Leader's Success and the Organisation's Performance
Today's typical leadership training is a mix of contextual understanding, people skills (behavioral competencies and personal development) and authentic behavior.
But none of these automatically translate into positive, engaging interaction between leaders and their staff.
It is necessary to also teach leaders when to engage with employees, what to emphasize in a given situation and how to communicate.
This is what Direct Leadership® does. 
Direct Leadership® is the only model that teaches the leadership deliverables.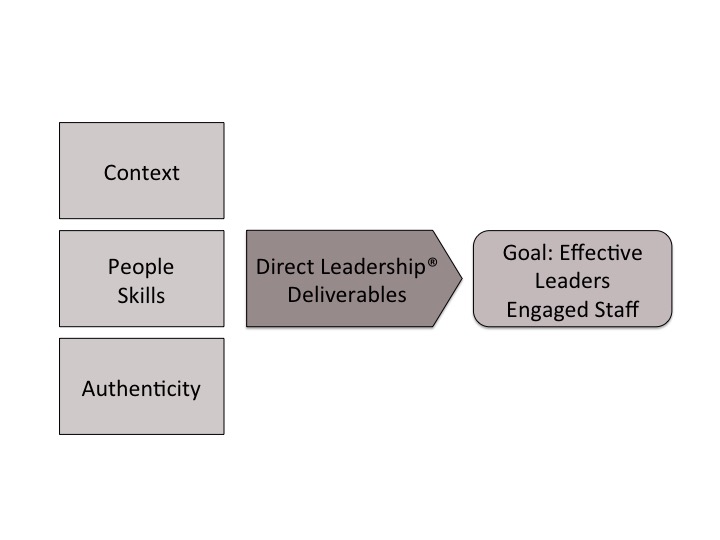 While contextual understanding, people skills and personal authenticity are certainly important for leaders, they do not in themselves lead to the goal.
Because reaching the goal of a visible and engaging leader requires knowing and applying the leadership deliverables.
Start with the Leadership Deliverables and Follow-up with Additional Skills
As a professional, you already have a training toolbox. So how do you add something like Direct Leadership®?
Whether your client is new to leadership or somewhat experienced, we generally recommend to launch a Direct Leadership® blended learning program - i.e. the online course, followed by workshop or a 1:1 coaching program.
For the less experienced leader the groundwork will be laid. And a subsequent Direct Leadership® Mastery Test will reveal what sort of competencies training and personal development could be beneficial to add. 
For the already seasoned leader, Direct Leadership® is a model that "connect the dots" and allows pre-existing passive leadership knowledge to become active. 
For both, all subsequent refinements of their skills may be immediately applied, because they know exactly where, when and how to assimilate them into their leadership deliverables. 
Rapid Change to the Organization of Work makes a Focus on Leadership Deliverables especially Important
Mastery of the leadership deliverables is even more important in a time characterized by:  
rapid disruption
new generations in the workplace
frequent changes of strategic priorities
Leadership responsibility is no longer limited to those who hold certain hierarchical positions. It shifts between different people and it does so frequently. In today's workplace people will oftentimes need to take leadership for a shorter or longer period at very short notice. 
The 3 Operational Components of Leadership Deliverables
The components of the Direct Leadership® leadership deliverables are: 
Leadership Opportunities - the awareness that leadership must be delivered, when an opportunity appears
7 Leadership Roles - seven areas of responsibility, that together cover the leader's responsibilities to his/her employees. The seven roles initially bring the leader awareness of interactions that contain leadership opportunities. But subsequently they become a tool by which the leader may address matters among staff with optimal clarity and consistency. 
4 Leadership Styles - the Catcher style, which is used to detect Leadership Opportunities and three 21st century action styles, that must inevitably be mastered by a leader. 
Embracing these, the leader will possess a simple and operational method to identify when and how to best intervene in any given situation. 
Strategic Tool for the Organisation
A shared, non-personalized language to discuss and improve the leadership deliverables is a strategic tool for the organisation. It works as a set of handles to turn up or down and as a constant that may be used to navigate by.

This, however isn't the case for competencies and personalities.
Because leadership deliverables are not personal, but just some handles to be turned, it is possible to have a strategic discussion about what to emphasize in order to best implement the business goals without pointing fingers at anyone's competencies or personalities. 
Direct Leadership® is Radically Different from Other Programs
The focus on leadership deliverables makes Direct Leadership® radically different from personal development, competencies based training and authenticity programs. While these perspectives are important ingredients in leadership development, they don't translate to clear hands-on leadership and engaged employees unless the leader has a clear understanding of the leadership deliverables. Thus Direct Leadership® is perfect both as a stand-alone concept and in combination with any of the existing leadership development programs currently on the market.


Multi-Lingual
The Direct Leadership® training and materials are currently available in English, Chinese, Spanish, Japanese, Indonesian, Swedish, Danish and Dutch.  
Become a Certified Direct Leadership® Facilitator!
Expand Your Impact | Increase Your Income | Online | Offline | Blended Learning | Assessment
Help your clients:
get clarity about what it entails to lead direct reports
feel empowered to perform consistently
become visible and present in the eyes of their employees
get a common language for talking about leadership
measure leadership performance and development according to a deliverables standard 

Teach or coach managers at all levels and regardless of job title:
how to catch the leadership opportunities when they appear
the 7 areas of responsibility that must always be on a leader's radar
the 4 leadership styles that express different intentions vs the employees



As a certified Direct Leadership® Facilitator you have access to:



Offering our two online training programs to your clients:

Remote Direct Leadership® - The Crash Course

Direct Leadership® – The Essential Leadership Deliverables

Teaching Direct Leadership® programs in classical class-room format
Offering Direct Leadership® programs as blended learning - with generous commissions on the online materials. 
Coaching leaders in the Direct Leadership® method
Administering the Direct Leadership® Mastery Test to your clients
Use the Direct Leadership® Board Game in your delivery
The online Direct Leadership® Resource Center for trainers, filled with shortcuts to help you succeed as a certified Direct Leadership® trainer.
Get your work promoted by the Direct Leadership® Group
A Proven Approach
There are 80 certified Direct Leadership® trainers all around the world and thousands of managers have gone through the Direct Leadership® course. So the Direct Leadership® model and methods are a proven approach which is available in 8 languages (English, Chinese, Indonesian, Japanese, Spanish, Danish, Swedish and Dutch) and an increasing number of teaching formats.
Mindset
Knowing the leadership deliverables makes leaders able to catch the leadership opportunites when they occur.
With this mindset, leaders may interact with people either on the spot or at the earliest practical occasion and become what every employee requires: a visible, present guide who helps his/her team to succeed.
This is the mindset you, as a certified Direct Leadership® trainer, will teach your clients.
Step-by-step Guides
The 7 modules of the online Direct Leadership® Facilitator Certification are very operational.
We will take you through each step, guide you in the exercises, let you present the material and receive feedback from both your peers and the Master Trainer.
You will also learn about the different teaching formats and get access to administering the Online Program and the  Mastery Test to your clients.  
And, of course, before we let you go, we show you how to combine the different elements to fit your clients' demands. We even tell you how you can use Direct Leadership® as your vehicle to asses your clients' need for other leadership development programs, you may have on your shelf. 
Useful Resources
The Direct Leadership® Facilitator Certification comes with all the resources you need to get started.
You will receive:
A Trainer Manual (in English)
A Text book 
A Workbook 
Your own Mastery Test and Report 

A personal access to the 2 Online Programs
Access to administer the Mastery Test to Clients
Access to use the Direct Leadership® Board Game in your delivery.
Access to earn commission from referring customers to the Online Courses
Access to the online Resource Center for Certified Trainers.
Who is this Certification for?
The Direct Leadership® Facilitator Certification trains you to teach and coach a very operational leadership method. The focus of the method lies on leadership deliverables in the everyday leadership of direct reports.
As such Direct Leadership® training can either stand alone or be combined with leadership development in the areas of context, people skills and authenticity.
This training will be beneficial for you if you are looking for:
An operational aproach to everyday leadership of direct reports
A leadership method that results in visual, present and clear everyday leadership
Employees that are motivated and perform well
Leadership deliverables that can be measured and used e.g. as KPIs
This certification is suited for you if you are a:
Consultant
Coach or Trainer
Corporate Training Professional
Who is this Certification Not for?
This program is not for you if you are looking for:
a highly theoretical training concept
a training concept focusing on personal development
a training concept focusing on authencity
What is the Business Case when you are a Coach or Consultant?
As a Certified Direct Leadership® Facilitator who works as an External Coach, Consultant or Trainer, there are good opportunities to grow your income: 
When you deliver client solutions or train individual leaders

Your hourly fee is a matter between you and your client. Unlike many other suppliers of training concepts we don't ask for a cut - we only require that you buy and include minimum one authorised Direct Leadership® material for each person your work with (an online course, a test, or a workbook).
Furthermore, when you include an online course in your delivery you will earn a generous commission on each purchase.  


When we promote you

We promote our certified facilitators around the world. You have the option to be promoted by us and receive a fixed rate, when we call on you to coach a leader or lead a workshop on our behalf.

When you sleep 

To earn money when you sleep you need to be registered in our affiliate program, it's the only way we can track who is eligible for a commission.
When you have clients (e.g. large companies) that prefer to get their own internal Direct Leadership® Facilitator(s) we reward you for introducing Direct Leadership®.  You will earn a commission for each online course the Certified Facilitators you have recruited use in their delivery. 

When you invite somebody to read about Direct Leadership® either on your own website or on directleadership.com,  and you use your personal affiliate links, you will earn a commission if they purchase an online course.
When you share our Social Media posts on LinkedIn and/or Facebook, together with your personal affiliate links, you can earn a commission if it leads to purchase of an online course from our website. So follow our company pages on social platforms. 
When you refer someone to the Direct Leadership® newsletter using your personal affiliate links and they purchase an online course at a later stage. 
In other words, you can "ride on the back of" our marketing efforts by actively using your personal affiliate links. If you do that consistently, you are likely to also earn money while you sleep. 
Getting certified in Direct Leadership® is the best way to start if you want to earn money on helping leaders, their companies and their employees to thrive. You will get to know the Direct Leadership® model, mindset and method in depth and you will have catalyst that makes other leadership competencies come alive for the individual leader, leadership group and/or for leaders of leaders. 

Worldwide Community
Not only do you get access to our proven course content – As a Certified Direct Leadership® Facilitator you also become part of our worldwide community of trainers. We at Direct Leadership® Group are here to help and support you to become a succesful Direct Leadership® trainer, who will leave a trace of clarity and consistency in leadership behind you. Which in turn will lead to an improved work environment for leaders and their employees and improved performance for the organization. 
Expand Your Impact | Increase Your Income
Register for the Direct Leadership® Facilitator Certification